ACHES

provides made-up, acting casualties for all your first aid, medical and rescue training.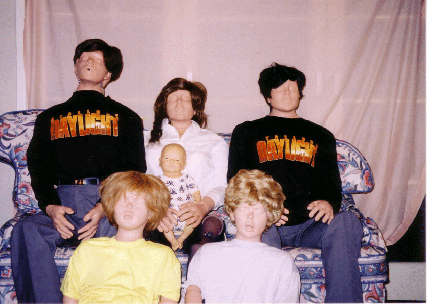 ACHES also has a 'family' of rescue mannequins, including a baby which is battery operated, and if it's not held properly waves its arms and legs, screws up its face, and cries and cries and cries and cries.......
About Us
ACHES is a Registered Charitable Company Limited by Guarantee.
(Charity No. 1057215; Company No. 3217443) registered on 27th June 1996.
The Organisation is insured for Public Liability for £1,000,000 for any one event and each member is insured against personal accident.

To be considered for membership of ACHES candidates take a 4 day formal course covering Role Playing, Make-up and Scenario Setting. They also take an examination consisting of practical, written and viva-voce elements.
Each applicant wishing to join ACHES has to provide references before they can be accepted as members.

We would expect a donation to cover our expenses. This will be agreed before each event and it is typically about £20 per person per half day - but we need a minimum of 2 people.

If You Use Us You Will Get:
Casualties who will portray, realistically, a number of different injuries and illnesses with appropriate make-up.

They will also react to the treatment that they receive.

They will be wearing clothing which can be removed either gently or destructively (they will be wearing a swimsuit, for decency, which should not be removed).

Given time to change make-up and clothing they can perform, probably 2 or 3 different scenarios in half a day.